The Peloponnese is a land of fable, today one of the most exclusive destinations in Europe, boasting a history that spans back some 5,000 years taking in the ancient civilisations of the Mycenaean, Spartans, Byzantines and Romans.
Recognised as the Greek Riviera, Porto Heli and the surrounding area is its crowning glory. The chosen location for those wanting a second home that is both understated and elegant. Home to shipping dynasties and royalty alike, luxurious villas are nestled in the hills overlooking exclusive private islands. Now it is home to Kilada.
Despite its history and its residents, the area remains to this day a true experience of Greece with its thriving fishing and farming communities and the welcome that it offers visitors and residents alike.
It is a place whose people, and climate, welcome you all year round.
Athens International Airport is perfectly located with fast and direct access from London, Paris, Zurich and Dubai and all the main European cities. From there the choice is yours from a 25 minute trip by helicopter, direct boat service taking just 1hr 40 minutes or a charming coastal drive that brings you to your door in about two hours.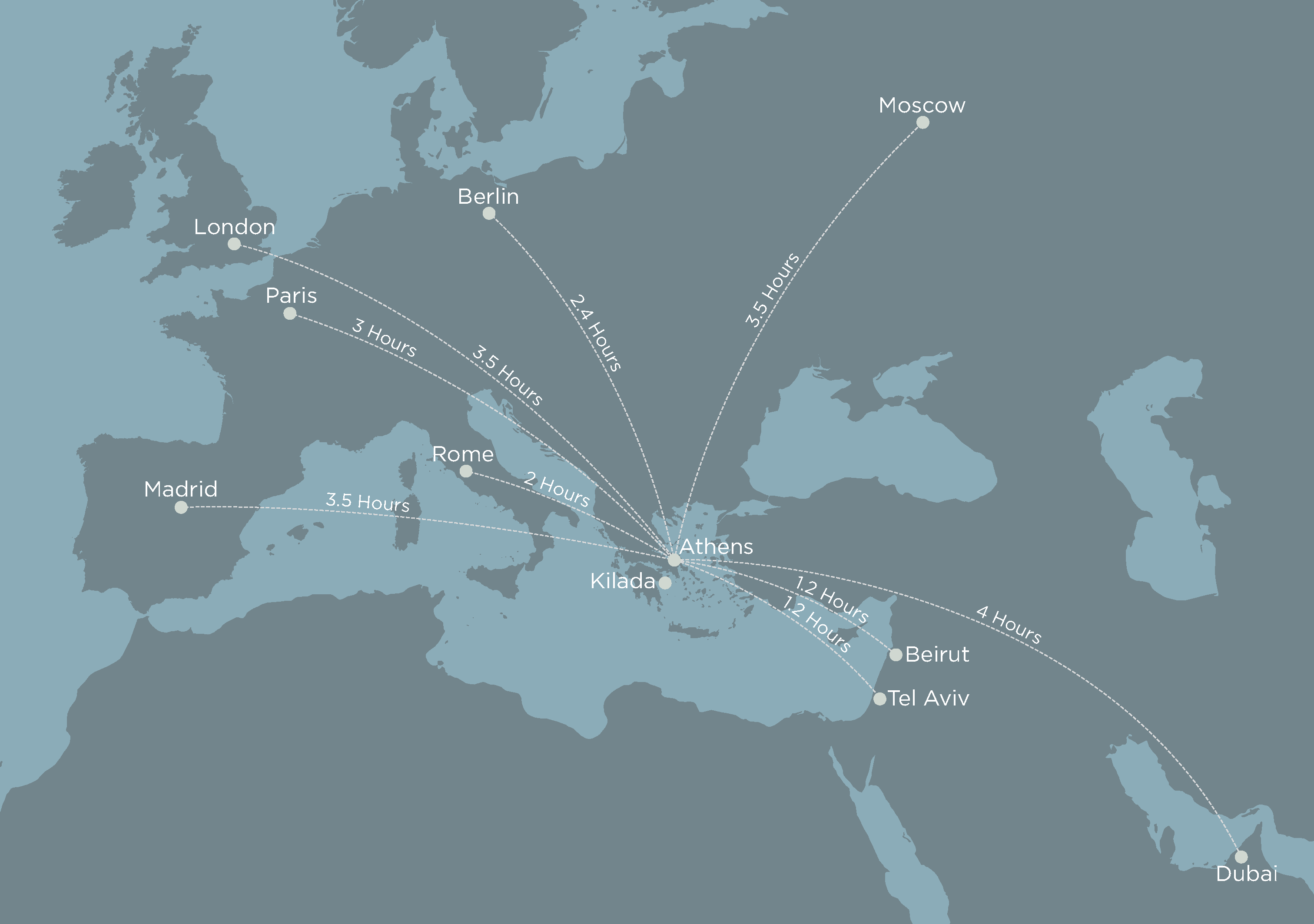 Kilada. A traditional fishing village
Charming and steeped in history, Kilada is a picturesque and sedate fishing village, unchanged by the passage of time. Despite its size, Kilada is noted for its traditional ship building yards which not only build, and care, for the traditional wooden fishing boats favoured in the region, but also cater to the yachting community with the marina providing the ideal mooring spot.
Stroll around the waterfront with its café's and bars, all set against the village backdrop dotted with churches, or visit the local favourite, Lepitsa for its acclaimed beach and taverna. Local retailers ensure everything is to hand including grocery stores, newsagents and bookshops.
Cosmopolitan yet village like, family friendly and a culinary destination, a lovely bay and beaches, super yachts standing alongside exquisite hand crafted Kaikia, independent boutiques, great food and nightlife. Porto Heli really has it all.
Free from the big retail brands that drain the character from so many of the Mediterranean resorts, it is a place to discover and enjoy.  Tour the boutiques for selected fashion, and then drop in to one of the restaurants favoured by the cognoscenti and remember that most of the ingredients, from the wines to fish, from fruit to honey, are from the local area.
As befits a coastal destination with a proud maritime history, today Porto Heli and Kilada are an essential port of call for the many super yachts that tour the Mediterranean. For those resident in the area it is a place to spend many happy days at the tiller of your yacht, to enjoy the annual regattas or simply spend the day visiting the many tranquil private coves that define this glorious coastline.
NAMED THE HAMPTONS OF GREECE BY VANITY FAIR
For a change of pace look no further then nearby Nikki Beach.  Stylish, relaxed, effortless and recognised around the world, it offers its renowned beach experience, contemporary international cuisine set to a backdrop of outstanding music and live events.
Amanzoe offers another view of Porto Heli.  With its hilltop setting and 270 degree view of the Aegean the setting is perfect for a day, or night, out.  The Aman Spa offers a choice of wellness journeys from Watsu Therapy and Pilates to moonlit yoga in the amphitheatre, elegantly simple Greek, Japanese and Mediterranean dining and a beach club with choice of pools and private Cabanas.  Residents at Kilada can enjoy a visit and an experience like no other.
At one with nature.
At home with history
With its peninsular setting, living at Kilada offers the perfect combination of dramatic landscapes, beautiful coves and historic sites.  Inland, explore the pine woods of Bisti and the Katafyki ravine or explore the rugged coast and discover the Fragchthi and Didyma Caves.
A cradle of Civilisation and home to many of the cultures that have defined our world today, history is built into the landscape.  The nearby site of Halieis offers a glimpse of a town at its peak more than 2,400 year ago, viewed through the clear Aegean waters that now cover the ruins.  Epidaurus remains one of the most famous ancient sites in Greece with its famed amphitheatre, which hosts part of the annual "Athens Festival", as does the citadel of Mycenae and the Temples of Hera and Apollo, not to mention the Byzantine monastery of St Dimitrios.
Beautiful
Spetses and Hydra
The cultural heritage is driven by location.  Set at the Eastern tip of the Peloponnese, it was a key strategic site for navies, one rich in resources and of outstanding beauty.
From your new home it is just ten minutes drive to the port, gateway to the car-free islands of Spetses and Hydra, which exert a magical allure. Spetses retains to this day its historic character with its grand mansions, lovely harbour, horse drawn carriages and buzzing cultural centre of Dapia. Elegant and charming, Hydra is a favoured retreat for the rich and famous, from Maria Callas and Aristotle Onassis to Sophia Loren.  Its stone mansions, alleys, churches and many museums, not to mention a selection of beaches, make it a much-favoured destination.
As befits such a cradle of civilisation, UNESCO World Heritage sites are found across the Peloponnese. Whether your interest is nature, history or culture, there is so much to explore.
A year-round calendar of events takes in religious and historic festivals, as well as culture and sport.  Easter Celebrations are a focal point for Porto Heli with Easter Sunday culminating in the spectacular burning of Judas, whilst Spetses Armata Festival commemorates the naval battle between Greek and Ottoman ships during the Greek War of Independence. 
The International Culture Festival, hosted at the Manessis Estate above Porto Heli, brings together a leading cast of performers with exhibitions and workshops.  Sport is not left out with Spring seeing the Spetsathlon, the largest triathlon race in Greece taking please on the island and summer seeing the Spetses Classic Yacht Race, featuring only classic boats.